Beacon Projects
GOAL: 50,000 Spanish Bibles
Our goal this year is to print 50,000 Spanish Bibles for our missionary outreach in Spanish speaking countries. If you would like to help with this project, please donate below.
1.9 million Scripture Booklets
Our goal this year is to print and supply 1.9 million Scripture booklets for Colombia, Costa Rica and Peru. If you would like to help with this project, please donate below.
Spanish Romans Booklets
This year we will continue to print Spanish Romans booklets for Mexico. If you would like to help with this ongoing project, please donate below.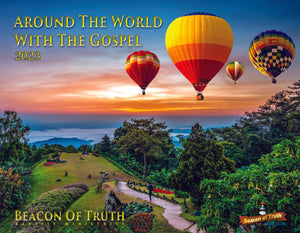 Beacon 2023 Calendar
Our 2023 Calendar theme is "Around The World With The Gospel" featuring beautiful pictures from different places around the world where we have sent the gospel. The calendar is printed on glossy paper and each calendar has a monthly verse and Bible reading schedule for the entire year. It is 11 x 17 flat and folded to 8.5 x 11.
We can even customize these calendars for your church for an additional fee by replacing the Beacon of Truth name and logo for your church name and logo. Please contact us if you are interested (info@btbm.org) to get the process started and you will be invoiced separately for the design set-up.
Calendars are $5 each but you can receive a 20% discount when you order 5 or more. Order yours today!
They make a great gift for your congregation!
Help Beacon of Truth send the WORD around the world.
Click the above Donate button to help with our projects.
We can help you with your printing and Gospel literature needs!
We print and distribute gospel tracts, Scripture booklets, New Testaments and entire Bibles.
Many of our items can be personalized for your church or ministry.
We also offer printing services (brochures, letterhead, envelopes, pamphlets, booklets, prayer cards, etc.) to local churches. Contact us with your next printing project and let us give you a quote.
Subscribe to our Beacon of Truth newsletter
Projects, new Gospel tracts and more. Directly to your inbox.